by Loretta Greene, Associate Administrator for the Office of International Trade
The U.S Small Business Administration's State Trade Expansion Program (STEP) is celebrating 10 years of helping small businesses just like yours find global success. Over the course of the last decade, STEP has awarded 302 state grants which averaged $518,186 in funding to all 50 states and U.S. Territories for a total of $156,492,287 generating nearly $1.8 billion in exports. The Small Business Jobs Act of 2010 created STEP in partnership with U.S. States and Territories to assist small businesses with entering and expanding into international markets.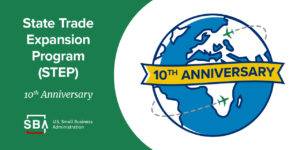 Idaho businesses were awarded $343,240 in STEP funds between 2017 and 2019. Sales resulting from these awards totaled an ROI of 57:1. Sixty-three percent of all Idaho small businesses that received awards in 2017-2019 were rural, woman and/or veteran owned. Over $177,000 in participation wards funded Idaho Trade Show Pavilions at trade shows such as ISPO, Singapore Airshow, IWA, Farnborough Airshow.
"Being a small business HMI has limited resources, which we can dedicate for exports. STEP grant allows HMI to approach markets and execute our sales targets more rapidly," said Matt Smith, Vice President, Hamilton Manufacturing Inc. "STEP helps create opportunities and long term clients that drive growth and job creation. Without STEP HMI would not have had the same success."
A key to expanding any business is finding more customers, and in today's modern global economy, businesses that think and work globally will thrive. Data shows that small businesses that export are outperforming those that do not. They not only increase their sales but are also able to pay higher wages and employ more workers. Despite these benefits, only a small fraction of U.S. small businesses export, even though 95 percent of the world's customers live outside of the U.S.
STEP helps small businesses overcome obstacles to exporting by providing grants to cover the costs associated with entering and expanding into international markets. STEP can support participation in foreign trade missions and market sales trips, subscriptions to services provided by the Department of Commerce and other agencies, the design of international marketing products and campaigns, and attendance to export trade show exhibits and training workshops.
The SBA offers grants that help capitalize on international opportunities. STEP grants are incredible tools, providing direct support to small businesses as they seek new and increased international sales.
On this 10th STEP Anniversary, SBA is proud to reflect on the many small businesses we assisted and look forward to helping even more entrepreneurs reach their global potential. We hope to see your business succeeding in the international marketplace soon.
"The State Trade Expansion Program (STEP) has greatly contributed to the growth of Ground Force Manufacturing's exports in the past eight years since our company was awarded its first grant. At Ground Force, we have always prided ourselves on doing our best to market to the world. Nonetheless, as a small manufacturer of mining equipment, our sales & marketing budget is limited. Without the matching STEP funds we have received for various projects, several regions and countries where we have now placed numerous pieces of equipment and established important repeat customers—Brazil, Suriname, Kyrgyzstan, and others—would still surely be untapped. The ROI for both Ground Force—and for our state and federal partners in this program—has been outstanding. With as little as a few thousand dollars in matching funds per project, together we have achieved several million in additional sales and have added numerous new manufacturing jobs to our company payrolls."
Aaron H. Davis
Major Accounts Manager, Ground Force Worldwide