Get there fast.
Businesses cite Idaho's easy access to key markets throughout the U.S. and beyond as a major factor in their decision to locate here. With major rail line access to key U.S. seaports in Portland and Seattle, one-to-two-day shipping to every western state, and nonstop service to nearly 20 major U.S. air hubs, Idaho's in the strategic sweet spot for easy distribution of goods.
Air Access
Idaho is well-connected to the world aviation system. We have seven commercial airports scattered around the state and 37 public-use airports total. The state's largest airport, the Boise Airport in Idaho's capital city, has nonstop service to 25 destinations across the United States with flights to some of the busiest airports in the nation – which makes connecting to international destinations simple. Over four million passengers traveled through the Boise Airport in 2019, a record number for the airport.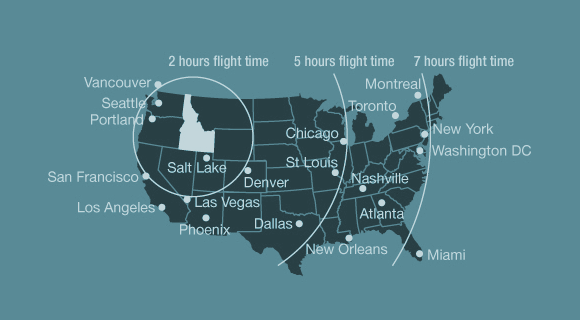 Broadband
For Idahoans to continue to realize commercial growth and better lives, they must have access to reliable broadband infrastructure and service.
The Idaho Broadband Advisory Board was created by the Idaho Legislature through House Bill 127. The board consists of three members from the Idaho House of Representatives, three from the Idaho Senate and three appointed by the Governor.
The board will create a statewide plan for structuring, prioritizing and dispersing grants from the Idaho Broadband Fund, which will provide financial assistance for broadband infrastructure in Idaho which addresses equal access to economic development, public safety, telehealth and education.
Click here to learn more about efforts to expand broadband across Idaho.
Ports
The furthest that sea cargo can transit into the western coast of the United States is located on the Columbia River at the Port of Lewiston, Idaho. The port has full intermodal capabilities and provides the largest crane, warehouse, and grain storage facility on the inland river system.
Road Infrastructure
With five interstates, 20 U.S. highways and 30 state highways, Idaho has a stable transport system to support your shipping needs. Over 75,891 lane miles of roads in the state transport nearly 150 million tons of freight each day, worth $80.5 billion each year.
Rail Infrastructure
Over 1,700 miles of rail bisect Idaho, transiting more than 100 million metric tons of freight each year. Established Class I railroad companies such as Union Pacific and Burlington Northern Santa Fe operate within the state and provide competitive shipping costs. Idaho's railways can ensure your product is landed in a major hub in as little as one day.

Still have questions about Idaho infrastructure? Download our Infrastructure Resource Guide or use the form below to contact us!