There are 162 people in Idaho quietly making history. Their story began in September of 2018 when they walked through the sparkling glass doors of a building whose design rivals an art gallery or museum. They are the inaugural class of the Idaho College of Osteopathic Medicine.
"We are the first and only medical school in the State of Idaho," said Stephanie Dillon, director of communications and marketing at ICOM.
ICOM was founded by healthcare visionary, Dan Burrell, who funded $34 million to build the medical school in Meridian. Dan makes it his personal mission to bring healthcare access to the states and regions that need it most. Idaho, ranking 49th for the lack of physicians per capita and 50th for the lack of primary care physicians per capita, was a clear candidate.
Dan's generous contribution, among others, resulted in the newest and most technology advanced medical school in the country.
"We have an amazing simulation lab that houses state of the art equipment for our student doctors to experience health encounters and scenarios they'll see when they become physicians," said Stephanie. "Students can even deliver babies using high fidelity simulation mannequins that have the ability to speak and react naturally."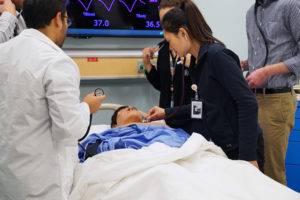 With access to technology that's a mix of Tony Stark's lab and Westworld, ICOM students are receiving an elevated level of education.
"These students will be very prepared when it's time for them to go into clinical rotations and residencies," said Stephanie. "We believe they will be more advanced than their peers because of the technology we're able to offer them here."
The students at ICOM will complete two years on campus participating in didactic learning through lectures and labs. During years three and four of their education through ICOM, they'll complete clinical rotations shadowing a physician.
"Once they graduate from ICOM, the students will go on to their residency based on the specialty they want to pursue," Stephanie explains. "But students from out of state are falling in love with Idaho and really crossing their fingers that they'll be assigned residency here."
Stephanie goes on to share that Treasure valley growth and Idaho's diverse geography are a distinct draw when it comes to recruiting.
"Even the city kids like it here," she said.
Whether they're from New York, California or right in ICOM's backyard, the students at Idaho's first medical school have donned their white coats, passed their first semester, and are continuing full steam ahead towards graduation.
"They'll be the first doctors that have ever graduated in Idaho," said Stephanie. "They're making history."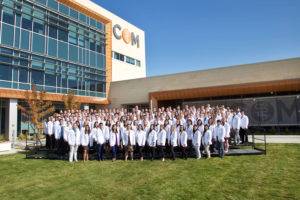 Find the Idaho College of Osteopathic Medicine at 1401 E Central Drive, Meridian, Idaho, 83642 or at their home on the web, www.idahocom.org.