IGEM Council Announces March 30 Meeting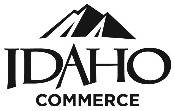 MEDIA ALERT
Contact: Megan Hill
Idaho Commerce
208.334.2470
megan.hill@commerce.idaho.gov
Idaho Department of Commerce Idaho Global Entrepreneurial Mission (IGEM) Council Announces March 30 Meeting
BOISE, Idaho—Tuesday, March 22, 2016— The Idaho Global Entrepreneurial Mission (IGEM) Council is scheduled to meet on Wednesday, March 30, 2016 from 1:00 p.m. to 3:30 p.m. The IGEM Council will hold its meeting at the Yanke Research Park on the campus of Boise State University, located at 220 Parkcenter Blvd. Room 207, Boise, Idaho 83706.
During this meeting, the Council will review one application for potential IGEM funding. This fiscal year, the IGEM Council has awarded funding to three projects for a total of $616,201.
The IGEM Council oversees the Idaho Global Entrepreneurial Mission Grant Fund, which includes $950,000 in appropriated funds by the Idaho State Legislature. IGEM funds research between university and industry partnerships geared toward commercialization initiatives. The IGEM Council's fiscal stewardship and strategic direction, advances IGEM's overall intended goal of economic prosperity through investments in technological advancements and innovation.
Click here for the complete meeting agenda.
This IGEM meeting is open to the public. There will be an opportunity for public testimony toward the end of the meeting. To learn more about IGEM, visit http://igem.idaho.gov.
Boise State University is Idaho's largest public research institution. Founded in 1932 and becoming independent in 1934, the University has become the fastest-growing research enterprise in Idaho. Boise State University recently joined a consortium of research universities including Purdue, Rice, Georgia Tech, University of Michigan and Texas A&M in a $5 million foundation-funded effort to create long-term, hands-on applied research projects that will ensure undergraduate and graduate students get unprecedented experience tackling real-life problems in real time. Click here for additional information on Boise State University www.boisestate.edu.