All-Idaho Firearm Auctioned at Idaho Governor's Cup L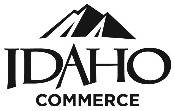 NEWS RELEASE: For Immediate Release
Contact: Kayla Church
Idaho Commerce
208.334.2470
kayla.church@commerce.idaho.gov
All-Idaho Firearm Auctioned at Idaho Governor's Cup Leverages $46,000 for Idaho College Scholarships
Century Link matches auction price of $23,000 for one-of-a-kind firearm made of all Idaho components
BOISE, Idaho—Thursday, September 24, 2015— In January 2015, the Idaho Department of Commerce partnered with Tactical Export Strategies to assemble a firearm made from components donated by 13 Idaho-based arms and ammunition companies.
"This was a fantastic team effort involving many of Idaho's firearms manufacturers who worked together for the greater good of Idaho's schoolchildren," said Governor C.L. "Butch" Otter. "The First Lady and I want to thank these generous corporate citizens not only for their commitment to excellence and the quality of their craftsmanship, but also for the future academic success of our Idaho students."
In an effort to leverage this world-class firearm to support a local non-profit organization, Tactical Export Strategies donated the firearm to the Idaho Governor's Cup, a 501(c)(3) organization which provides Idaho high school students scholarships to pursue their higher education goals within the State of Idaho. Academic scholarship recipients receive $3,000 each year, renewable up to four years, while scholarship recipients pursuing a professional-technical education or trade school education receive $3,000 per year for the length of the program, up to three years.
On September 12 the firearm – valued at $15,000 – was auctioned off at the 2015 Idaho Governor's Cup event in Sun Valley and was purchased with a winning bid of $23,000. CenturyLink generously matched the auction price, resulting in a total donation of $46,000.
The all-Idaho firearm was first on display in the Idaho Commerce booth at the January 2015 Shooting Hunting and Outdoor Trade (SHOT) Show in Las Vegas to showcase Idaho's manufacturing strength in the firearm and ammunition industry. The SHOT Show and Conference is the largest annual trade show for professionals involved in the outdoor industry, and is the world's premier exposition of combined hunting, shooting sports, firearms, ammunition, law enforcement, military, cutlery, outdoor apparel, optics and related products and services.
To view the original press release about the All-Idaho Firearm, as well as the list of participating companies, visit https://commerce.idaho.gov/press-releases/13-idaho-companies-collaborate-to-create-an-all-idaho-firearm
###