For all the hummusapiens out there, this one's for you.
Nestled in the Boise Farmer's Market, surrounded by passersby eager taste the latest Hummuna Hummus lineup, is SEVZ Kitchen, a 3-year-old family-owned business focused on providing unique and simple hummus recipes to Boise and beyond.
"It was all born out of my wife's desire to create a healthy alternative to store bought hummus," said George Saroyan, co-owner of SEVZ Kitchen. "Our daughter was gluten intolerant and could not find a hummus without filler oils and preservatives, so with Sevana's catering background she began creating multiple hummus flavors."
George's wife, Sevana, continues to be the curator of each wildly addictive Hummuna Hummus flavor. What started as a single offering – the Traditional – has expanded into a selection of flavors including Roasted Garlic, Greek Platter (kalamata olive) Sicilian (balsamic, sun-dried tomato and basil), Spicy Jalapeno and Chana Masala (spicy curry).
"Sev is wildly creative," said George. "There's no off switch when it comes to how she imagines food. That's why she has so many flavors and so many more that she wants to produce."
Sevana's knack for unique flavor-making is in her blood. The Traditional is her grandmother's recipe, passed down to Sevana's mother and finally, to her. The simplicity of this recipe remains a differentiator for Hummuna Hummus.
"You're able to pronounce every ingredient in our products," said George. "We don't add preservatives and don't add oil."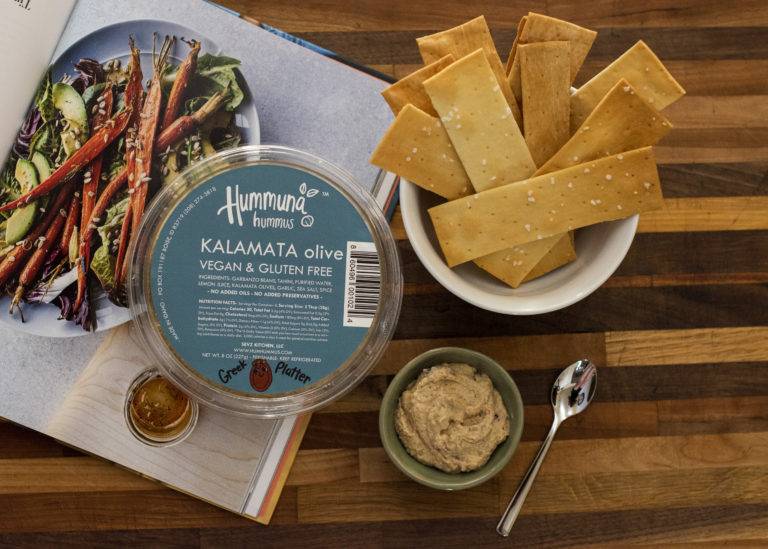 George emphasizes their product is a great fit for those who are focused on a healthy lifestyle. That may be why you're more likely to find Hummuna Hummus at specialty stores like the Boise Co-Op, Idaho Natural Grocers and newer Albertsons stores.
"The Boise Co-Op has been tremendous to work with from day one and our product continues to move at a rapid rate from their store," said George.
With their hummus quickly finding its way onto shelves, George and Sevana have their work cut out for them.
"We have a crew of seven part-time employees that show up for just one day each week for roughly four hours," said George. "My wife and I do everything else behind the scenes and try to catch some sleep in between."
The Saroyan family preps their ingredients at a commercial kitchen in Meridian and completes their hummus production at the University of Idaho Food Technology Center in Caldwell.
"My wife and I can't say enough good things about the Food Tech Center," said George. "They truly lift you up. They analyze what you're doing and give you instruction on how to be more efficient while focusing on safety and cleanliness."
The University of Idaho Food Technology Center isn't the only helping hand in the history of Hummuna Hummus. George and Sevana were able to kick off their business in 2016 through the help of another local partner.
"We are very grateful to the benevolent people of Awakenings Coffee House who opened up their kitchen to us after hours," said George. "Shortly thereafter we found Kitchen Creations in Boise and Your Kitchen in Meridian that had more capacity."
The partnerships between SEVZ Kitchen, the Boise Farmer's Market, Awakenings Coffee House, the University of Idaho and more are prime examples of the small business community culture in Idaho.
"The culture here is very nurturing when it comes to business," said George. "I don't mean that at just the city or state level, it's across the board. It's the community and other vendors. Everyone is so consistently nurturing that you have to pinch yourself to believe it."
Don't worry about pinching yourself, George. In Idaho, it's real.
Visit SEVZ Kitchen at the Boise Farmer's Market and find a list of Hummuna Hummus retails online at https://squareup.com/store/sevzkitchen/.