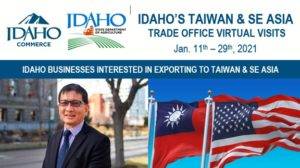 Schedule Now for Available Meeting Dates
January 11th –  29th, 2021
Eddie Yen 
Director and Official Representative, Idaho-Asia Trade Office
In lieu of our usual in-person trade office business visits, the Idaho Taiwan and Southeast Asia Trade Office will be holding virtual visits for Idaho businesses on January 11th through the 29th 2021.
The Eddie Yen will be available for one-on-one meetings to discuss the your business interests in the Taiwan or Southeast Asia markets.
Discuss market strategies, opportunities or barriers into the market, current business projects in the region, or ask questions about the current regulatory environment in the region.
Other services our trade office offers include:
Providing and analyzing market information and research
Scheduling overseas appointments
Importing/sourcing information
Promoting Idaho products and services at trade shows
Maintaining relationships with international government agencies
Conducting buyer pre-qualifications and due diligence
Taiwan & Southeast Asia  Trade Office Visit – Flyer
---
Don't miss this opportunity to meet with Eddie Yen, Idaho's longest Trade Office Manager with over 32 years representing Idaho in the Taiwan market. 
Sign up today as spaces are limited!
To schedule a meeting, please contact
Andrea Vlassis-Zahn at Idaho Department of Commerce andrea.vlassis-zahn@commerce.idaho.gov