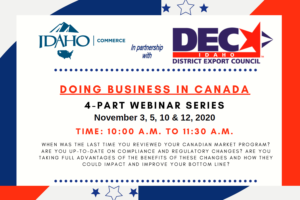 ---
DOING BUSINESS IN CANADA
4- Part Webinar Series
November 3, 5, 10 & 12, 2020 | 10:00am – 11:30am MST
________
When was the last time you reviewed your Canadian Market Program?
Are you up-to-date on compliance and regulatory changes?
Are you taking full advantage of the benefits of these changes and how they could impact and improve your bottom line?
Whether you are new or an experienced exporter to Canada, now is the time to update your toolkit. Ensure you are compliant with new processes and regulatory changes. Understand how these changes can help you expand your market reach, improve your bottom line, and improve your customer service and growth.
Industry expert Ron Ubels, Vice President of CDS Custom Services Limited, will help you update your best practices during this 4-part series. You are welcome to register for the entire series or for individual sessions that meet your needs.
Ron will address the significant changes in the export/import process with Canada over the past few years and continue to occur. These changes directly impact your trade program with Canada.
Speaker: Ron Ubels, Vice-President– CDS Customs Services Limited

Ron Ubels is a former member of the Canadian Society of Customs Brokers and recipient of the Certificate of Appreciation for Achievement in Trade by the United States Department of Commerce-U.S. Commercial Services. Ron is also the author of "eBay Global the Smart Way."
Pricing: You can pay $35.99 for individual sessions that meet your needs or $125.99 to attend all four sessions.

Session 1: USMCA – CUSMA
Tuesday  |  November 3rd, 2020
Session 2: Non-Resident Importer Program
Thursday   |  November 5th, 2020
Session 3: The Importance of Accurate Tariff Classification
Tuesday   |  November 10th, 2020
Session 4: Review of Logistics and Sourcing Opportunities
Thursday   |  November 12th, 2020
---
Questions? Please contact
Idaho Dept. of Commerce
Sharon Adams, International Trade Specialist
sharon.adams@commerce.idaho.gov